A SIMPLE APPROACH TO AN ARTISTIC STATEMENT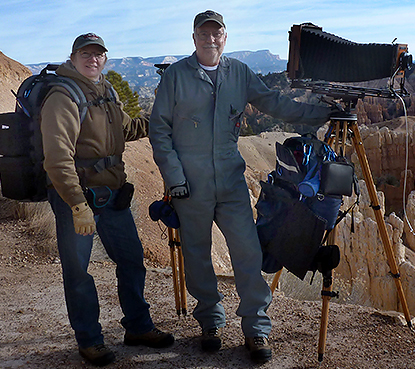 JB and Susan Harlin are members of a small, but dedicated group of photographic artists that continue to practice traditional film-based, wet darkroom photography. They take the simple, basic approach very seriously, using only time-honored tools and techniques to craft their fine art black & white photographs. Their emphasis is upon making the photograph, not on the equipment, gadgets or fads.
They use large format wooden view cameras with film sizes ranging from 4×10 to 11×14. JB prefers the more traditional film sizes of 8×10 and 11×14, while Susan works primarily with 4×10 and 8×20. The choice of these large and ultra-large film sizes are essential in producing the smooth tonality and clear, sharp, detailed images these two artists demand in their photographs.
JB and Susan travel the country at every opportunity and have photographed from coast to coast. They have worked extensively in the beautiful national parks of the Southwest. They love the quiet beauty from mountains, to ghost towns, to the deserts and regularly travel photographing the natural scene with their LF and ULF cameras.
Photographic images by JB & Susan Harlin are made using the highest quality materials available. Each photograph is hand-crafted in the traditional wet darkroom by the artist. Only the finest fiber base B&W printing papers are used. Each photograph is selenium toned and archivally processed for maximum permanence. All mounts and mats are hand made from high quality 100% rag, 4-ply, museum-grade mat board for maximum long-term stability. Each photograph is hand-mounted and each mat custom-cut. From the original perception of the image, to the finished fine art photograph, the emphasis is on quality, not quantity.