WORKSHOP DAY 2-continued
---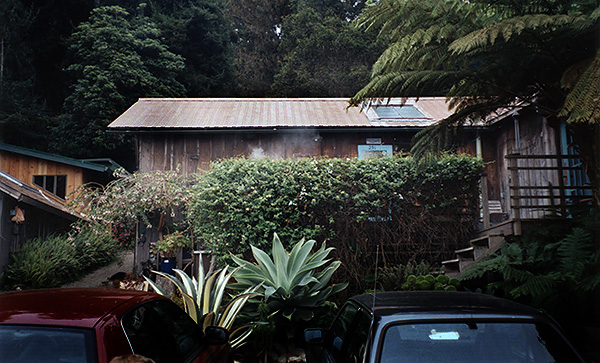 We left Point Lobos around 3:00 and headed for Wildcat Hill. . this is the House on Wildcat Hill. . . where Edward Weston lived from 1938 until his death in 1958. It is much the same as when he lived there. . . there was an additional bedroom added to the house, on the right. Bodie House is just behind the main house. . . the whole place is built on a steep hill side. Kim Weston and his family live there now. The new building on the far left is Kim's studio and dark room.
---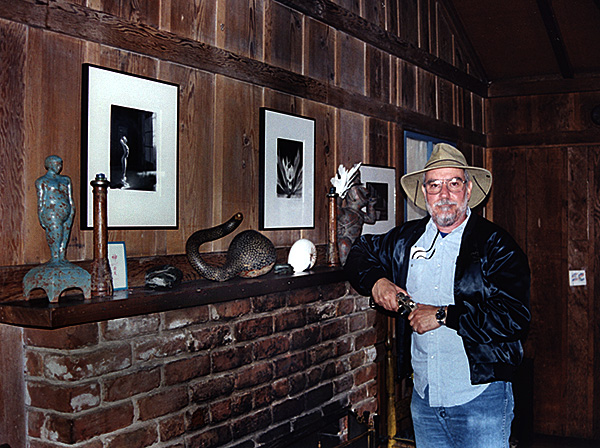 Here is JB standing at the fireplace in Edward Weston's house on Wildcat Hill. . .
---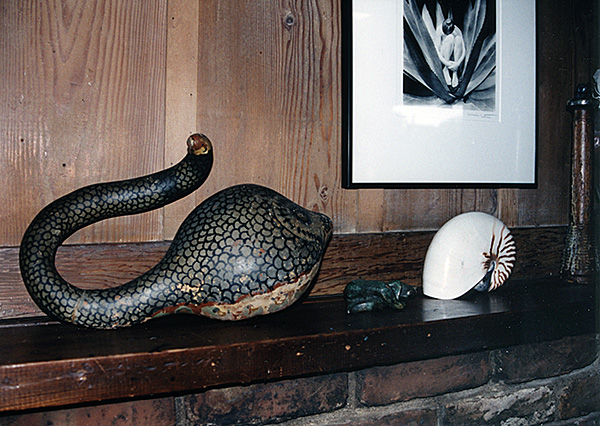 There on the mantle is the gourd that Brett photographed. . . next to it the shell Edward used for 1S.
---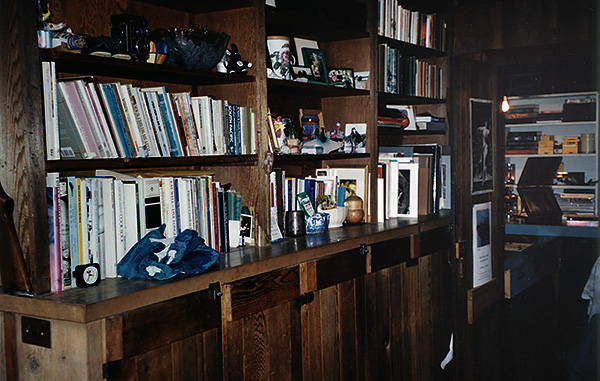 Along the west wall of the house, next to the front door, there are floor to ceiling shelves. . . the bottom shelves still have the pencil markings on the shelf edges used to identify stacks of prints that Edward stored there. The door at the far end of the room leads to Edward's dark room. The bare light seen through the door way is Edward's printing light. . .
---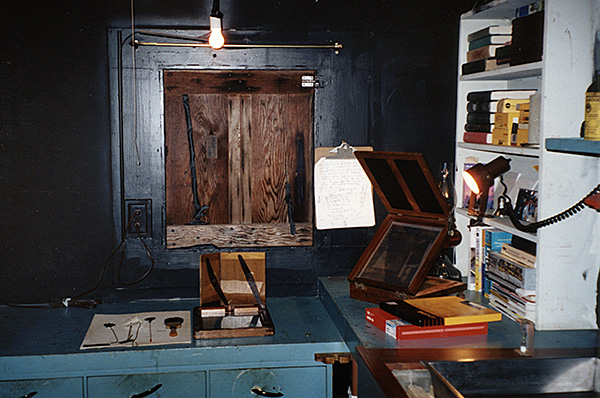 Edward's dark room. . . looking west. . . the door is just to the left. Note the window. . . in 1940 Beaumont Newhall made a photograph of the outside of the house with Edward standing in this window. There is a printing frame and dodging tools laying on the counter. . . the printing light is just above. . . the light hangs by its cord and has a clothes pin attached to raise and lower the light, just as Edward used it.
---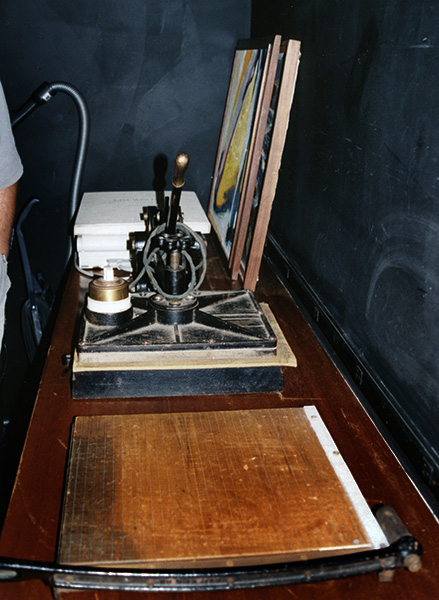 Here is Edward's dry mount press and paper trimmer. . . the dry mount press was suppose to be the most modern piece of equipment Edward owned.
---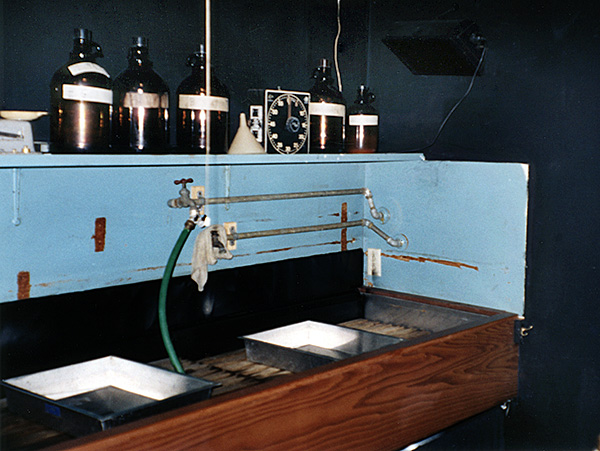 The sink in Edward's dark room. . . the GraLab timer was not from Edward's day. . . he used a loud ticking alarm clock and counted seconds in the dark. . . he used a simple, hour glass-type, sand filled 3 minute egg timer for timing print development. . . the brown glass bottles are authentic.
---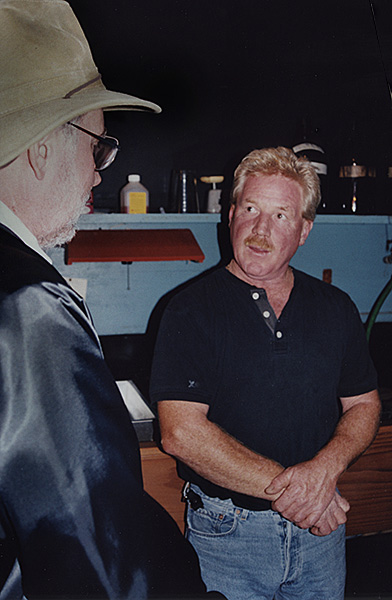 Kim and JB in Edward's dark room.
---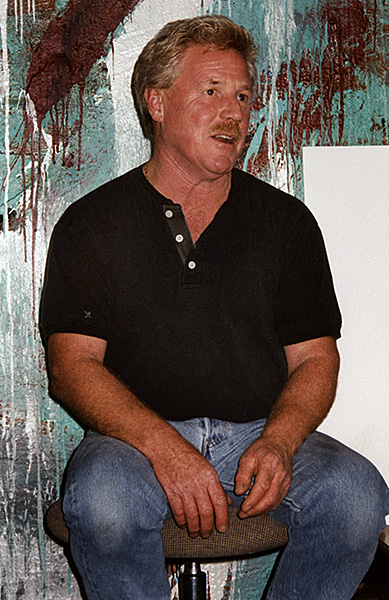 After seeing the house, Kim took us on a tour of his studio and dark room. . . he has his uncle Brett's enlarger in his dark room. . .which is just to the north of the house. Kim is both a painter and photographer. . . he paints life-size images on his studio walls and then places props and models into his painting then photographs them in black & white. Here we are in Kim's studio and he is preparing to show some of his work.
---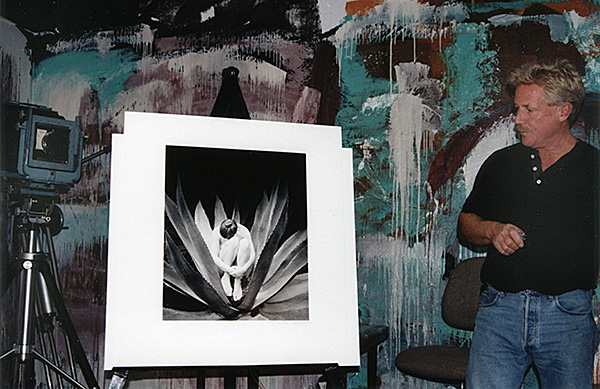 Kim showing his work in his studio on Wildcat Hill.
---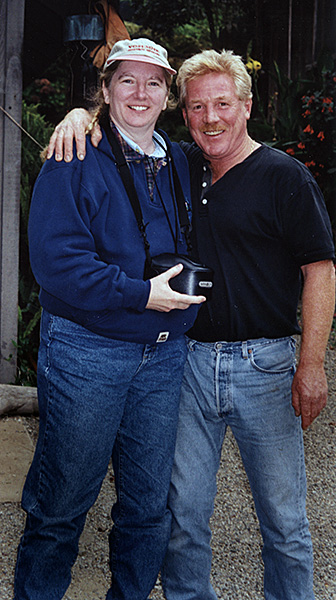 Susan and Kim as we were leaving. . .This was the end of another very long day. . . again we retreated to our room to try and absorb all we had seen and heard. . . tomorrow is another day. . . a day in the dark room with Cole and Kim Weston. . .
---