JB HARLIN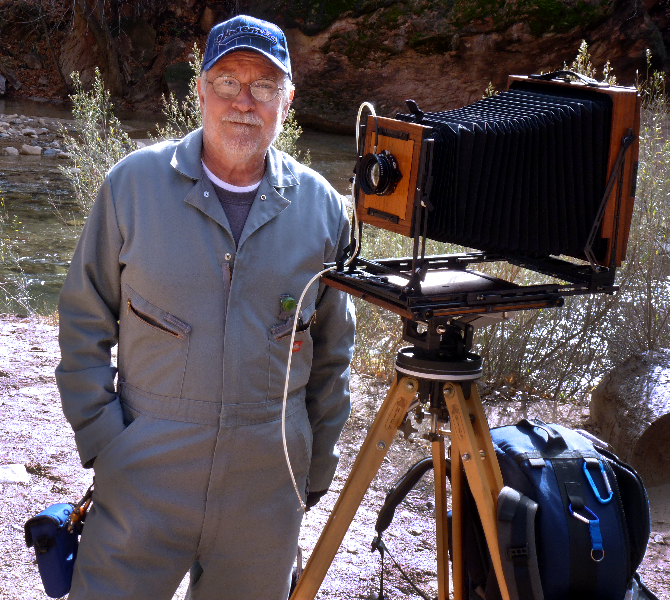 Hello and welcome to my side of the 'ever-growing' conglomeration that has become our web site.  My wife and I are both large format traditional Black & White photographers. We love to travel and photograph, mostly in the West and SouthWest areas of our beautiful country. We each use wooden field cameras with film sizes that range from 4×5 to 11×14 inches.
I started experimenting in the wet darkroom over 40 years ago, beginning with a very modest temporary setup in a small closet.  I shot 35mm and worked at honing my skills with film and printing as a hobby, a way to relax, and to explore my urge to be creative.  I had tinkered with the camera ever since I received my first Kodak Brownie Starflash when I was nine years old as a Christmas gift, but it took me way longer than it should have to realize that I could develop and  make prints myself.  Fortunately, once I got started the fascination has never ended.  Twenty years ago I began working with LF, then ULF and I have never looked back.  Traditional wet darkroom photography is my passion and this is what I do.
Here in my area of our web site, you will find my galleries which contain some of my selected photographs.  The vast majority of the images I have created the last 5-6 years are contact prints from 8×10 and 11×14 film.
Our web site has been in continuous operation now since 1999 and contains numerous other areas, all related to traditional film photography as practiced in the wet darkroom.   Please explore our site and don't forget to visit my WIFE'S AREA. If you have questions or comments, e-mail me. I would enjoy hearing from you!
Thank you for taking the time to visit!
JB Harlin
GALLERY #1
GALLERY #2
GALLERY #3
GALLERY #4
VIDEO: Tree, Zion NP 2013