CONSTRUCTION OF THE 8X20 VERTICAL CAMERA
THE BACK YARD FILM TEST

---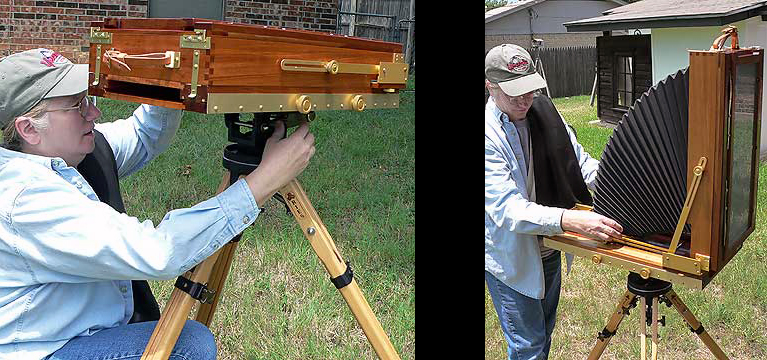 The vertical 8×20 makes its first trip outside for its first film test. The camera is moved to the back yard, mounted to its tripod and unfolded. This was a mid-day test, in Texas July heat. It was 99, with a heat index of 105.
---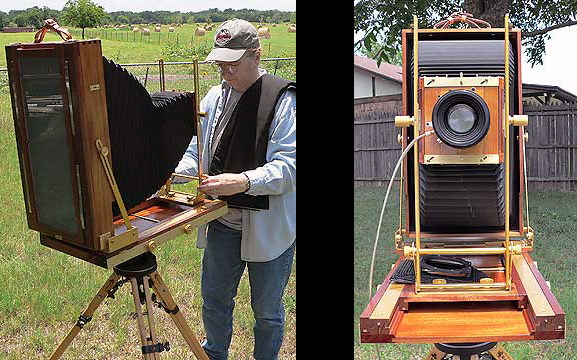 The camera is fully unfolded and the lens is mounted.
---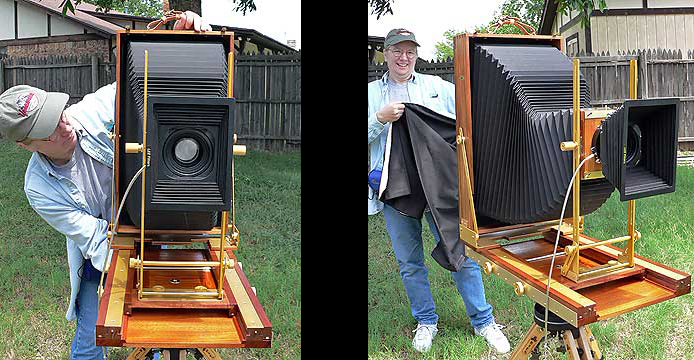 A Lee panoramic lens shade is used to help with any internal flare caused by excess light inside the camera.
---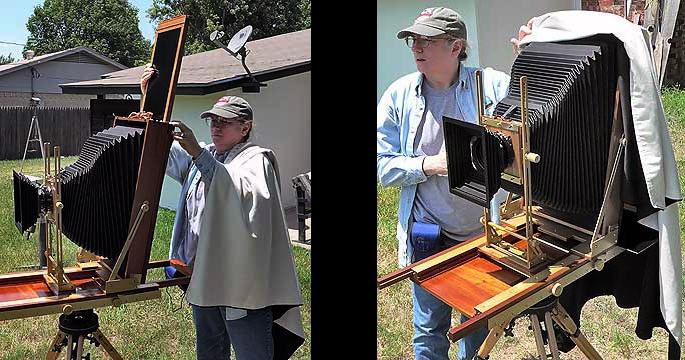 The film holder is inserted and the first sheet of film is used to christen the new camera. This is the first real-world test using film and is done to prove the camera is light-tight and ready for serious use. After a couple of quick exposures it is time to head back inside and process the film.
---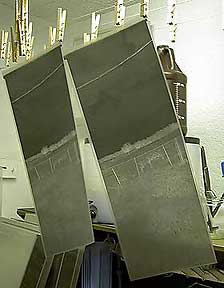 The test film is processed and hung up to dry.
---
THE CONSTRUCTION, FITTING AND TESTING OF THIS CAMERA HAS TAKEN 341 HOURS AND 3 MONTHS TO COMPLETE. THE TEST FILM SHOWED NO UNUSUAL LIGHT LEAKS OR STRANGE ANOMALIES. THE LENS SHADE WORKED AS IT SHOULD AND THE EDGES OF THE FILM WERE EVENLY EXPOSED, DISPLAYING NO UNUSUAL INTERNAL FLARE PROBLEMS. WE NOW FEEL CONFIDENT THE CAMERA IS ROAD-WORTHY AND READY TO GO TO WORK.
AT THIS POINT THIS CAMERA HAS NOT BEEN USED IN THE FIELD, BUT I AM SURE MY WIFE WILL BE BRINGING BACK SOME VERTICAL 8X20 NEGATIVES ON OUR NEXT TRIP. . . BE SURE TO CHECK BACK, AS WE WILL BE ADDING NEW IMAGES TO OUR AREAS ON THIS WEB SITE.
---